Mar 09
21
Alexander Kjerulf is a great writer, and I recommend you check out his blog.  I've included a sample here of his last post ("The seeeeeeriously cool way out of a downturn") that's very relevant to what CEOs are dealing with today.
By the way, I would never tell a CEO to do everything they can to avoid layoffs.  Layoffs can hurt a culture, or it can help it – it depends on how they're handled, and the unique situation of the company.  In fact, I'm often suggesting CEOs consider layoffs before they're ready to accept the necessity themselves, because lots of companies, especially startups, tend to overhire and have too many people anyway.  Boards and CEOs like to make aggressive hiring plans based on aggressive growth…which often doesn't come as fast as they want.
Having said that, if a company has a tight culture and feels that surviving a downturn without layoffs is the right course, this is a great example of a company that did it.
—————–
"The seeeeeeriously cool way out of a downturn"
Is there a better way out of a corporate crisis than layoffs? I've long felt that there has to be, and back in 2001 when my own IT company was deep in the hole, we fought hard to avoid laying off anyone (and succeeded).
I'm currently writing my second book which will be about keeping an organization happy during a crisis and one of the case stories I'll be using is so good, that I just had to share it here.
The story is quite long, but it shows very clearly that there are better ways to handle a financial crisis than layoffs and panic. Enjoy!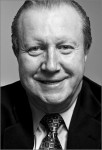 The economy may be bad, but Wim Roelandts isn't really bothered much by that because, as he told me, this is his 8th. recession so far.
Wim's worst crisis as a leader came in 2000 when Xilinx, a computer chip manufacturer based in  Silicon Valley, got hit hard and fast by the dot-com crisis. In the December 2000 quarter their revenue was $450 million – 9 months later, their revenues for the September 2001 quarter was down to only $225 million.
Something had to be done, and fast, but what? Wim Roelandts, an affable Belgian who is usually seen with a smile on his face, was the CEO back then and was clearly facing some tough decisions. And while Xilinx' closest competitors wasted little time in firing a large percentage of their staff to cut costs, Wim felt here had to be a better way.
He came up with a plan for his organization and the 2.800 people in it and called it "Share the pain".
The plan had three simple components…continue to the full article